---
---
Genshin Strategies
---
---
Damage
Damage is something you really want to consider when it comes to picking a main in Genshin Impact. Obviously you wouldn't want to play characters like Barbara, Kokomi, and Diona because unless you purposfully build them as DPS, then they can't really do anything.
Some things to consider when looking at damage are artifacts. Artifacts are very important, because without them, you can have a 5 star doing only 700 damage as an AR60. If the character has bad artifacts that only work on them, then it's best not to play them. Or, if the characters artifacts are almost impossible to obtain, then you might want to wait to get them.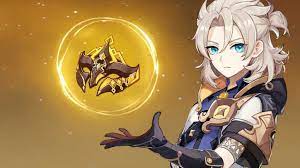 Image by Gamerstopia
---
---
Weapons
When picking what weapon to use on your character, you might just assume that any basic 5 star sword would be good, right? Well, the truth is that not every sword is good. Some swords are specifically built for a character. For example, some swords can work okay on Xiao, but Primordial Jade Winged-Spear and Staff of Homa work the best on him, because the sword was built to fit his skills and strength.
Some weapons you might not want to use is The bell, Thrilling Tales of the Dragon Slayers, Ferrous Shadow, and Dragon Spine Spear. These swords either do nothing for any character, or overall make your characters deal less damage. You can almost use any basic 5 star sword on any character, but a lot of 5 star swords were made for certain 5 star characters. For example, Childe and Skyward Harp.
(Image by HoYoLAB)
---
---
Strong Characters
If you want to know who to main, and you want someone powerful, here are some suggestions and reason why you should play the best DPS characters Ganyu and Eula.
---
---