WORK CITED PAGE
The History of Brutus the Buckeye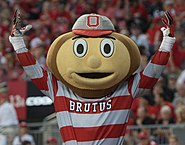 This work is free of known copyright restrictions.
Michelle Eberhart on wikipedia
Do you know who Brutus the Buckeye is? He is the mascot for Ohio State. Do you ever wonder what Brutus started out like? If you do, this would probably be a good website for you.
The people who came up with the idea of Ohio State's mascot being a buckeye was students Ray Bourhis and Sally Huber. In 1965, Brutus made his first appearance. Brutus was a big paper-mache buckeye with big eyes, eyebrows, and a smile. This version didn't have a nose.
Later in the year of 1965, Brutus became made out of fiberglass, rather than flimsy paper-mache. This new Brutus had different looking eyes than the older one and also had a nose for a change.
In 1975, Brutus' head rested on someones shoulders, instead of going down to their waist. He also had some different facial features. He had one eye squinting eye and a more real looking face. To me, he looked like he was Popeye.
The new mascot didn't last long. In 1976, they decided to change brutus again. Brutus turned back into the old fiberglass buckeye which was loved by many people.
In 1977, Brutus' got smaller by maybe a few inches inches, but gained sixty pounds. Brutus still had his face the same, but had a hat on. The hat had an O on it.
In 1981, Brutus started looking like he does today, but his face was a little less upgraded. He also wore a jersy that had the number thirty-six on the front. This version of Brutus was lighter than the older version, which was a good thing for the person on mascot duty.
In 1982, Brutus got a new shirt. The shirt was striped with scarlet and grey, had the number 00 on the back, and had Brutus' name on the back.
In the early 2000s Brutus became the Ohio State mascot we know today (picture at beginning).

This work is licensed under a Creative Commons Attribution-NoDerivatives 4.0 International License.