How to Make Cornbread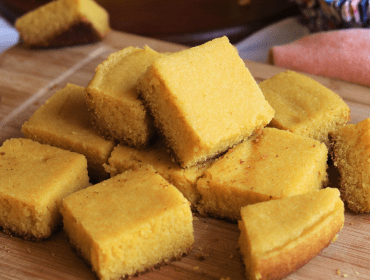 Image from Souped Up Recipes
Ingredients
Dry Ingredients
1 cup of cornmeal
1/4 cup of all-purpose flour
1/2 tsp of baking soda
1/2 tsp of baking powder
1/2 tsp of salt
1/2 - 1 cup of sugar
Wet ingredients
1/2 cup of milk
1/4 of melted butter
3.5 tbsp of vegetable oil
1 egg
1.5 tbsp of honey
A small piece of butter to grease the pot
Video from Souped Up Recipes
Instructions
Melt 1/4 cup of butter in advance.


Cut another small bit of butter and add it to the rice cooker. We gonna use that to grease the pot. It will get soft while we are preparing other ingredients.


In a large mixing bowl, add in 1 cup of cornmeal, 1/4 cup of all-purpose flour, 1/2 tsp of baking powder, 1/2 tsp of baking soda, 1/2 tsp of salt, 1/2 - 1 cup of sugar. I know that looks like a lot of sugar, this is not a diet recipe. This is a recipe that makes you feel good. Mix them until everything is well combined.


In another bowl, crack in 1 egg, add 1/2 cup of milk. If you can find buttermilk, that will be even better. Not only it brings a fermented character to the recipe, but also, the baking soda will react better with the acid that is in the buttermilk. I couldn't get buttermilk in my city, regular milk works good too. Keep adding 3.5 tbsp of vegetable oil, 1/4 cup of melted butter, and 1.5 tbsp of liquid honey. Mix well.


Dump in all the dry ingredients into the wet ingredients. Mix it well. You will get a really thick but quite smooth batter. If your batter is to wet, you can add a little more cornmeal. If it is too dry, you can add a little more milk. Because every ingredient suppliers are different. You should adjust it based on your situation.


Now the little piece of butter in the rice cooker should be soft. Get a brush and spread it everywhere on the bottom. Make sure you get the side as well. Be generous because the butter is what creates the crust. My rice cooker is non-stick. If yours are not, you need to cut up a round piece of parchment paper to put on the bottom. If not, it will be a huge mess when you try to take out the cornbread.


Pour the batter straight into the rice cooker. A rubber spatula will help you clean the bowl easily. Tab it a few times to shake out the big bubbles. Rice cooker pot is method material, you might want to place a silicone under it so you don't ruin the pot.


I am using the simplest rice cooker to make this. It only has 2 settings (cook and warm). Press down the button. Let it cook. In about 3 or 4 minutes, the button will pop back up. You just let it sit in the warm setting for at least 20 minutes


After 20 minutes, press the button again. In about 3 minutes, the button will pop back to the warm setting. Let it sit for another 20 minutes and your cornbread is cooked. But I like to press the button down again to get the crusty bottom. It will take another few minutes for it to come back to the warm setting. I did this once, but you might need to do it twice to get the crust depends on different brands of the rice cooker.


Let the cornbread cool down. Take it out and cut it into the size you like. Enjoy!